Hi
I've been planting out out front yard to natives with a lot of indigenous plants over the last 10 years. The grasses, low stuff and trees are doing well. The shrubs layer has been a mixed success and there is still not as many as I would like. The combination of previous long drought and the fact it is a steep west facing slope with sandy water repellant soil didn't help. I'm less than 1 km from the coast in Ocean Grove, Victoria. I lost a whole bank of correas when it finally did rain. But it's getting there and I'm certainly getting more interesting and varied bugs for the kids to look at even if the range of bird visitors hasn't increased much.
The kids and my husband decided to build a nest box last school holidays at my request, as a project and put it up. The last week we've had a pair of Eastern Rosellas spending an extended time each day in and around it. My kids are wondering how long it is likely that it will take them to make up their minds about if they want to use it or not?
I'm curious to as to how much in general they will tolerate people wandering around, as you need to go past it to get to the front door? We could have put the box in a more isolated spot but this way my daughter who has a moderate vision impairment can watch it from the upstairs window. When I talk them into making me a couple more I'll put them in more out of the way spots.
Nest box - my hubby researches everything to death put on the excluder to keep Mynahs out as there are heaps of them around.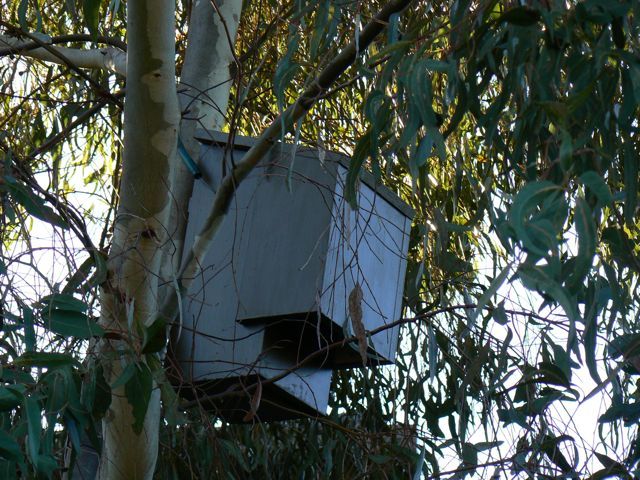 Sorry the shot isn't clear but it's taken through the upstairs window.